Are location actually carries over 4,000 items. Here is a small sample of what we carry in stock and are adding new parts regularly. If for some reason we do not have the part you need, we can usually get it in less than 24 hours. If the item is urgently needed, it can be picked up at our suppliers warehouse 25 minutes away in SLC. This includes Washer & Dryer Units, Generators, Refrigerators, Back-up Camera Systems, Flat Panel HDTV's, GPS, Auto tracking Satellite Receivers, and more. Scroll Down for more information on items carried in stock & some Store Pictures.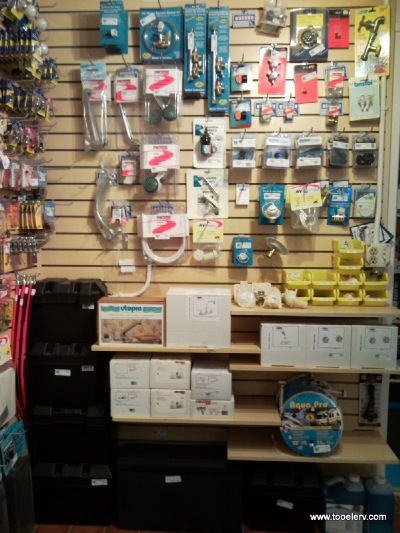 Fresh Water bulk hose, fittings of all sizes, & much more kept in shop (not shown in picture). Ask a sales associate about the part that you need. Chances are we have it.

Fresh Water Plumbing

Water Pumps
Kitchen & bath faucets
Tub & shower valves, shower heads, & hoses.
Pressure regulators.
Exterior mount - City Water fill valves.
Gravity water fill mounts.
Filters & inclines pump strainers.
Water heater bypass kits.
Water heaters.
1/2" & 3/8" nylon pex sold by the foot.
Huge selection of fittings (not on display - stored in shop).
Fresh water hoses.
Faucet and Pump repair kits.
Fresh water line and tank cleaner.
Winterization Kits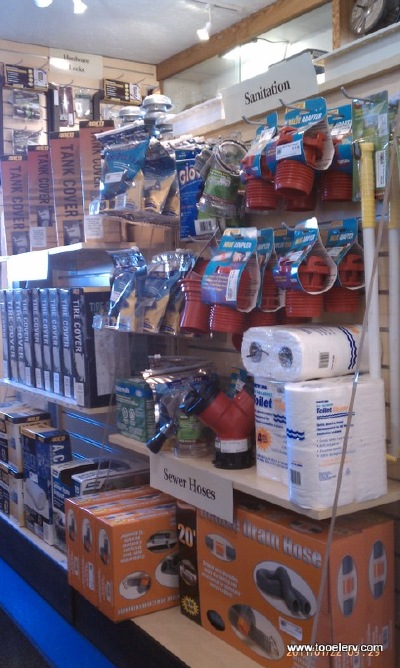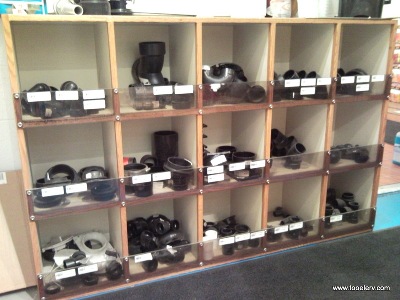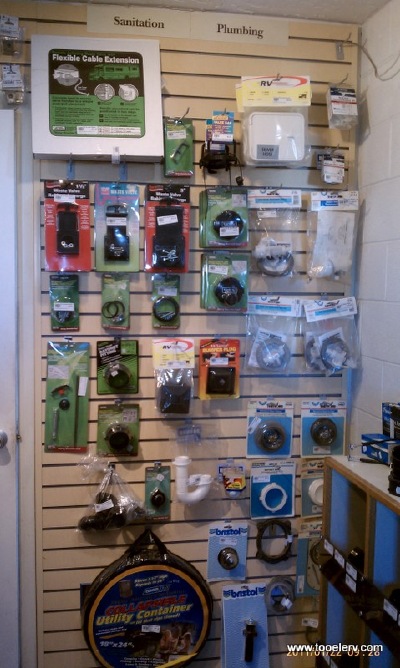 Waste Water Management & Plumbing

Sewer Hoses & connections.
Waste tank treatment.
Toilet Paper.
Spray wands to "unclog" tanks.
Black & Grey Water tank heaters.
All sizes of waste gate valves.
Toilet valve repair kits.
Various Sewer caps.
Sewer hose bumper plugs.
Drain kits and traps.
Sink strainers.
Various RV specific waste plumbing parts.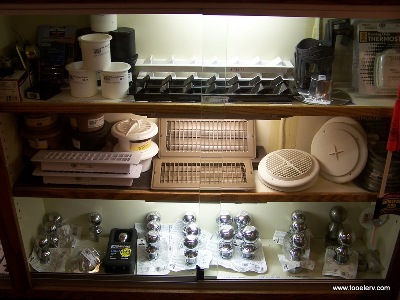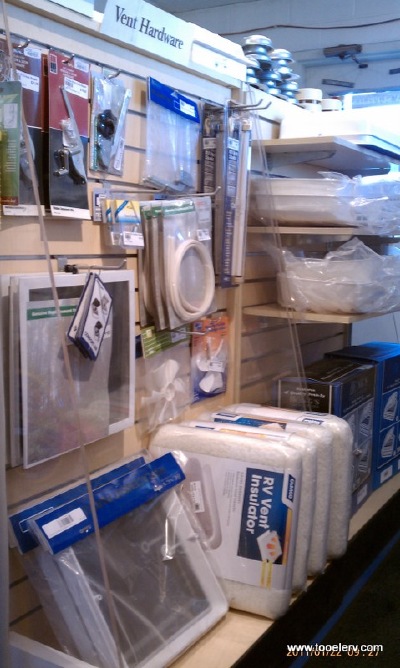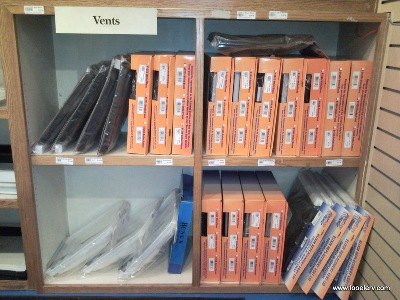 Ventilation

All types of standard vent lids in White, Amber, & smoke.
Complete vent / "skylight" assemblies.
Vent - cranks, arms, screens, seals, shades, & fan blades.
Refrigerator vents - all types.
Oven range vents - exterior wall mount.
Roof plumbing vents.
HVAC floor & ceiling luevered vents (round & rectangular).
Furnace to duct flange mounts.
3" duct sold by the foot.
Roof mounted A/C seals.
Upper & lower A/C units (limited store stock).
HVAC & Appliances

Furnaces
Thermocouples
Circuit boards
Ignitors
Limit & other switches
Burner tube assemblies
LP Gas valves
Relays
Thermal cut-off switches
Thermostats
Various hinges, latches, and hardware.
Pressure relief valves (water heaters).
Anodes
Drain Valves.
Mud Dauber screens.
Furnace Motors.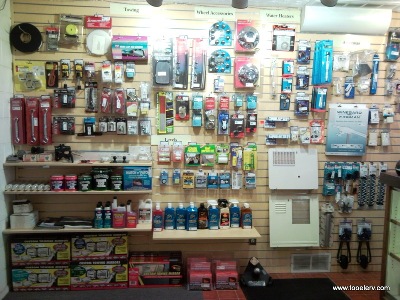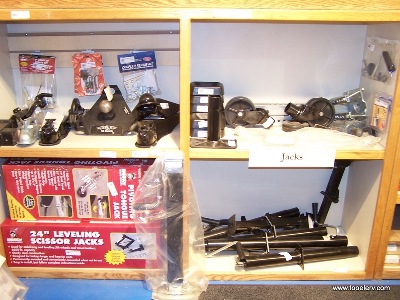 Towing Accessories & Parts

Side & Top mount tongue jacks w/ foot & wheel attachments.
Side mount swivel jacks (common on boat trailers).
Scizzor style stabilizer jacks.
5th wheel landing gear jacks & parts.
Pop-up camper stabilizer jacks.
Jack repair kits.
Couplers for A-frame & straight frames.
Spare tire mounts & tire covers.
Sway Control systems & accessories.
Ball Mounts.
Ball mount "Balls".
Various pins & clips.
Mirror extensions (universal and vehicle specific)
5th wheel lube discs.
Various 5th wheel hitch parts.
Equalizer parts.
Turnbuckles.
Quick links.
Tire inflator extenders for dual rear tires.
Coupler Locks.
Chocking Blocks.
Leveling Blocks.
Bubble levels.
Bearing seals.
Bearing Buddy grease caps & other.
Electric brake hardware.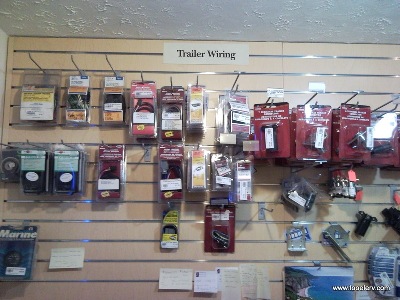 Towing - Electrical

Brake away switches and cables.
Electric brake magnets.
Brake Controllers and vehicle specific harnesses.
7-way, 6-way, 5-way, & 4-flat socket & connectors.
Tow light socket adapters.
Magnetic tow light kits.
Tail light adapters (5 to 4 wire systems).
Large selection of bulbs and lights.
Multi gauge 7-way wire sold by the foot.
4 Flat stranded wire sold by the foot.
Quick Splices, Butt Splices, and Fuses.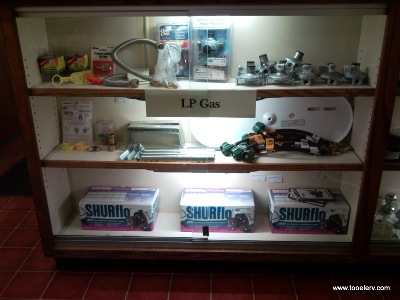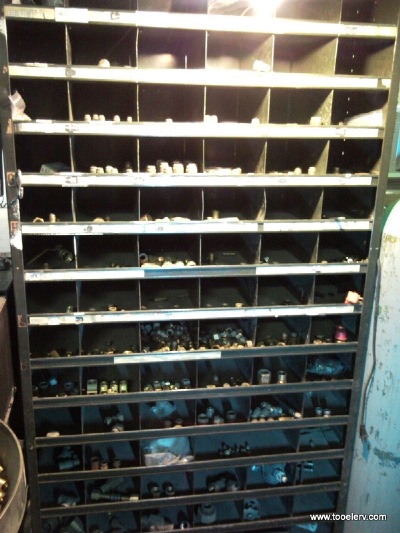 LP Gas

Single & Dual Stage regulators (Trailers, Motorhomes, & Grills)
Dual - automatic changeover regulator valve (dual tanks)
Various LP pre-fabricated hoses & adapters
Large Selection of hard to find Brass Fittings & Adapters
LP tank mount kit for trailers
LP tank OPD valves (for tank updates - certified service only)
Large selection of LP gas brass fittings & adapters (not on display)
LP hose sold by the foot.
LP hose fabrication with customer specified fittings & length.
LP tanks
LP tank covers.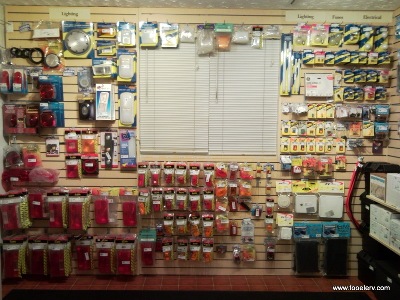 Lighting

Large selection of replacement bulbs (incedenscent & fluorescent).
Sealed exterior trailer lights (including LED) w/ pigtails & grommets.
Large selection of complete tailight assemblies.
Large selection of side & top mounted marker lights & lenses.
Exterior dome lights (rectangular & round type).
Interior light fixtures.
Courtesy or Accent lighting fixtures.
Large selection of lenses and reflectors.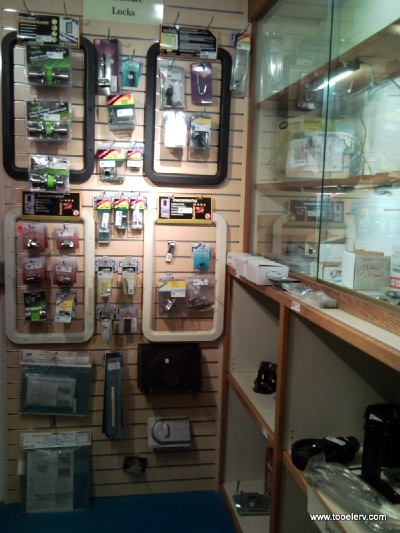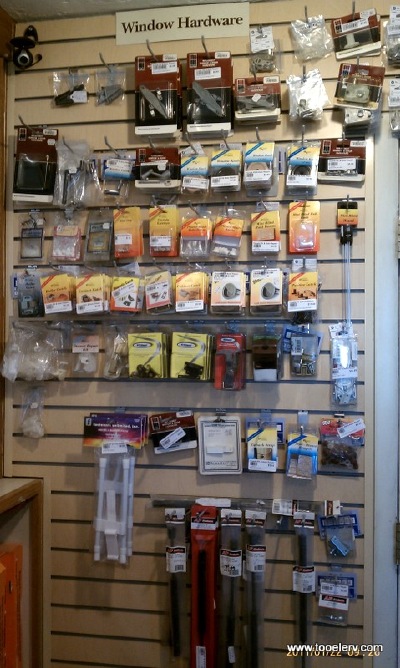 Door & Window Hardware

Various entry door handle / lock assemblies.
Large selection of Cargo door locks.
Door & Cargo door catches and stops.
Entry Door window plastic trim.
Complete pre-hung door assemblies (not on display)
Strikers
Grip handles
Door "gas shocks" and associated hardware.
Complete window assemblies (limited stock).
Window cranks and other internal repair hardware.
Drawer & cabinet door hardware.
Curtain & blind Hardware.
Refrigerator door catches and hardware.
Water Heater Doors.
Awnings

Complete awning assemblies including arms.
Arm mounting hardware.
Lift handles.
Pull straps.
Awning mounting molding (secures awning to RV).
Door rollers to protect awnings from tearing.
Awning fabric repair kits.
Canopy clamps.
Other misc. awning hardware.
Antenna's

Complete antenna units.
HDTV replacement head units.
Crank actuator handles.
Aluminum head units.
Worm gears and other repair parts.
Interior Signal Amplifier unit w/ coaxial connector & DC socket.
Exterior to interior coaxial kit.
Exterior Coaxial weatherproof sockets.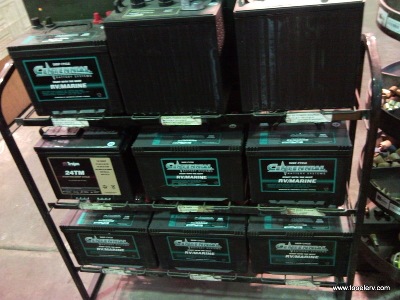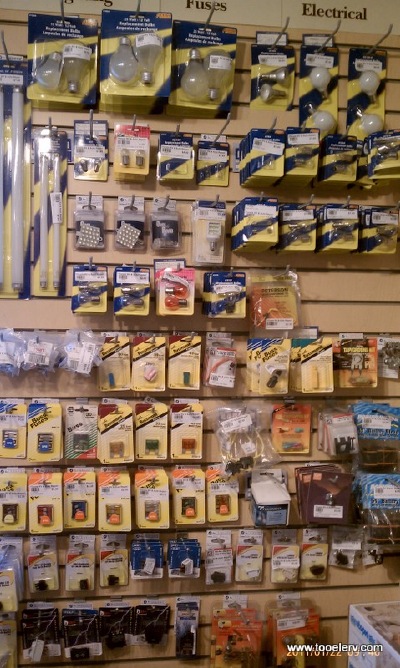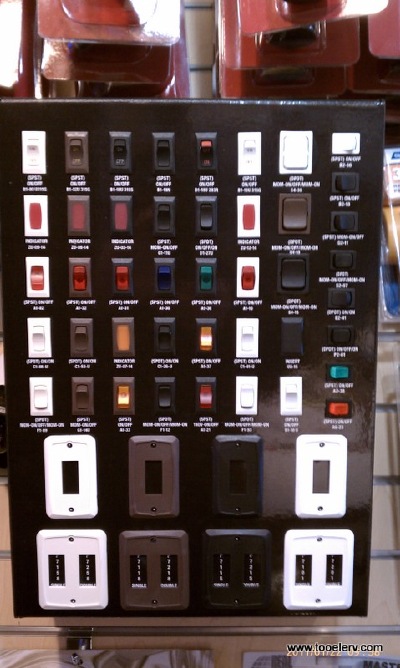 *NEW* as of 2011. Now carrying over 60 different switches in our local store. Here is a sample of half of them.

Electrical

RV/Marine Batteries
Automotive Batteries
Battery Switch Solenoids
Disconnect Switches
Battery Cables
Battery Boxes, Trays, & Straps
Various Switches
Fuses
Fuse Holders & Taps
Circuit Breakers
Large selection of Bulbs (including NEW LED bulbs)
Access Hatches
Various Sensors
Replacement Circuit Boards for Appliances.
Maintenance

Various Roof Sealants
Rubber Roof Membrane sold by the foot
RV & Marine Wash
RV & Marine Waxes
Vinyl & Rubber Cleaners
Canvas Cleaners
Teak Oil
Rubber Roof Cleaner
Marine Gel Coat repair kits
Various other repair kits
AND MUCH MUCH MORE... STOP IN...IF YOU CAN'T FIND THE PART YOU NEED, ASK A SALES ASSOCIATE!!!